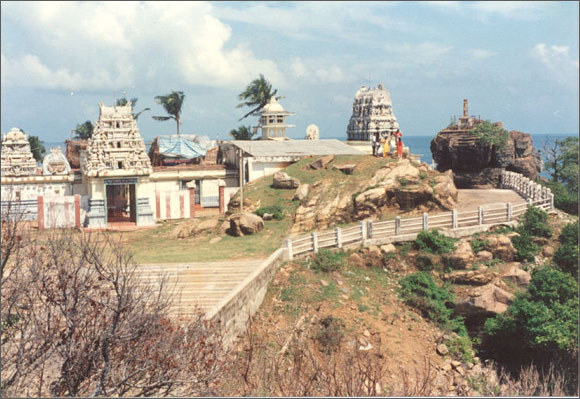 Koneswaram temple also Thirukoneswaram is a Hindu temple which is located in the town Trincomalee, Sri Lanka. It is dedicated to main deity in Shaivism namely Lord Siva and is one of the five ancient Sivan temples around the island.
Trincomalee is a natural deep-water harbor that attracted great sea farers like Marco Polo, Ptolemy and sea traders from China and East Asia from the ancient times. The local name Thirukonamalai means "Holy East Hill". Kona is a derivative of the 1st Century Tamil word Kuna meaning East. Trinco as it is commonly called, has been a sea port since the days of the ancient Kings and one of the British Empire's most important ports in Asia during the second world war. From 1941-45, Trinco had been the headquarters of Lord Louis Mountbatten Allied Southeast Asia commander.
The Koneswaram temple is believed to have been a major religious shrine since before the arrival of Prince Vijaya 2500 years ago. Many inscriptions found in the surrounding area speak of Indian Pallava, Chola and even Pandya kings making contributions to the upkeep of the temple indicating an origin in antiquity.